Our
history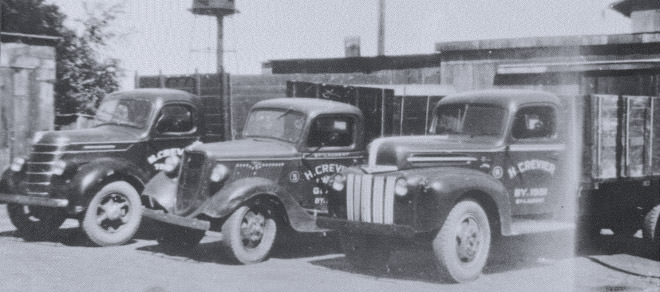 Crevier Group is a family business handed down from generation to generation.
Founded by Émile Crevier in 1945, the company started in retail, selling heating oil and later supplying wholesale fuel and petroleum products to independent resellers in Montreal's West Island.
In the mid-1980s, the second generation took up the reins, expanding its operations to supply independent gas station owners under the Crevier banner. The subsidiary Crevier Lubricants was established at this time, making Crevier one of Eastern Canada's largest independent oil companies.
The lubricant division expanded in the 2000s, when Crevier became the main distributor of Chevron products for Eastern Canada. Crevier Lubricants later became a 1st Source Elite Chevron Marketer, which represents the highest level of performance and customer satisfaction.
In 2012, to meet all its customers' energy needs, Crevier Group added aviation fuel to its "One Stop Shop" offer. The Group then continued its geographic expansion by starting its lubricant distribution activities in British Columbia under the name Catalys Lubricants, which allowed the company to establish itself from coast to coast.
The third generation took the helm in 2014. With new energy and fresh perspectives, they have continued the Crevier tradition of pursuing excellence.
This growth took shape with the acquisition of Case N' Drum and RP Oil in Ontario. At the same time, the Group took over the Gaz-O-Bar service station network, one of the largest independent petroleum networks in Eastern Quebec. This solidified its place as a leading player and a trusted acquirer in the industry.
To create a multi-brand presence and expand its portfolio, Catalys Lubricants established a partnership with Shell in 2020. This allowed the lubricants division to expand and open distribution locations in the Prairie Provinces to provide a seamless customer experience across Canada.
In 2021 Crevier Group sold its fuel division, Crevier Petroleum, to Parkland Corporation to support the division's business development and accelerate the Canadian growth of its Catalys Lubricants subsidiaries.
The acquisition of North Atlantic's lubricant division in Newfoundland, LubeSource in Ontario and Nemco Lubricants & Chemicals in the Prairies allowed Catalys Lubricants to complete its coast-to-coast distribution and manufacturing network, solidifying its position as a leader in Canada's lubricant industry.
The family business philosophy of proximity and reliability has been translated into concrete strategies and actions throughout its history.